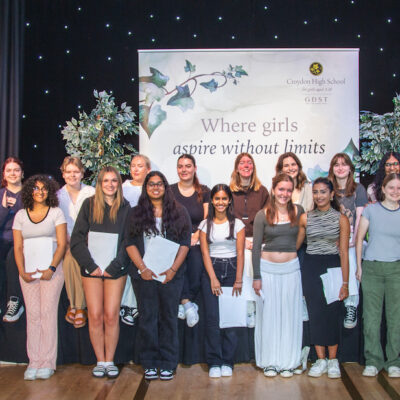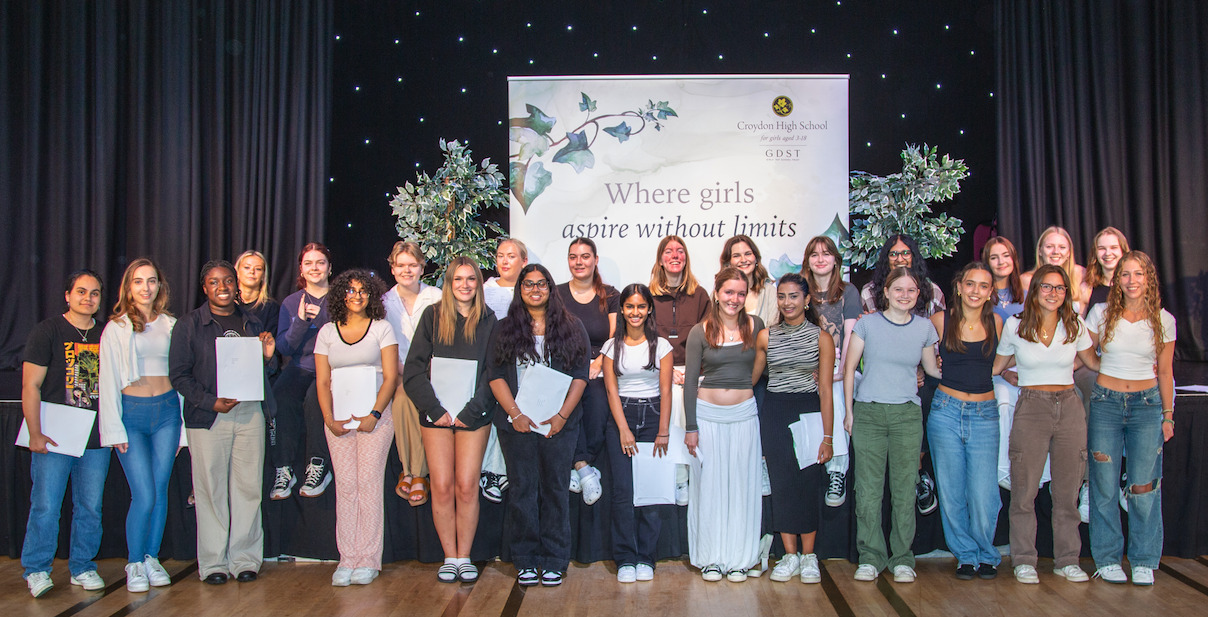 Encouraged to Aspire without Limits, Croydon High's Class of 2023 are ready to move on and Reach for the Stars!
Following the national trend where grades have returned this year to pre-pandemic levels, Croydon High is very proud to report an overall uplift in A Level grades from those achieved in 2019. This is in keeping with the school's on-going upward academic trajectory.
Croydon High School is extremely proud to announce that almost 50% of all A Level grades awarded this year are an outstanding A* or A
In addition to this impressive statistic,  80% of all grades awarded are A*- B
In a talented and extremely aspirational cohort, almost a quarter of all pupils achieved straight A* A grades
77% of all pupils are heading to their first choice of university destination with 95% accepting either their firm or insurance offers
Diversity of subject successes with Art, Computer Science, PE and REP (Religion, Ethics and Philosophy) pupils all achieving A*/A Grades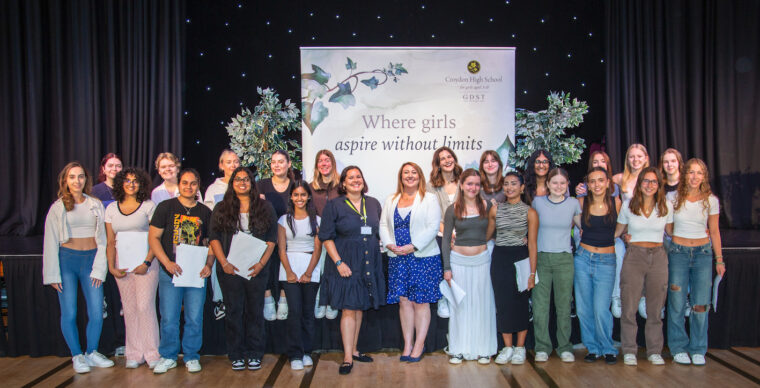 Croydon High's Head, Annabel Davies was clearly thrilled to have the opportunity to recognise what she describes as a 'truly inspirational year group'. 
"We must remember that this is a cohort who missed out on the experience of formally sitting for their GCSEs in 2021, but who have gone on to achieve some truly fantastic exam outcomes at A Level. These pupils embody the traits and values we seek to nurture at Croydon High, showing determination, resilience and aspiration in abundance. I have no doubt that the journey ahead will be fulfilling and exciting for every one of them."
Deputy Head (Academic) Ben Rew agreed, saying " What is particularly pleasing this year is seeing so many individual pupils achieve their goals across a range of subjects, confidently securing the next steps to wherever it is they want to go. We are immensely proud of them and look forward to seeing these dreams become reality".
Anjali aspires and achieves without limits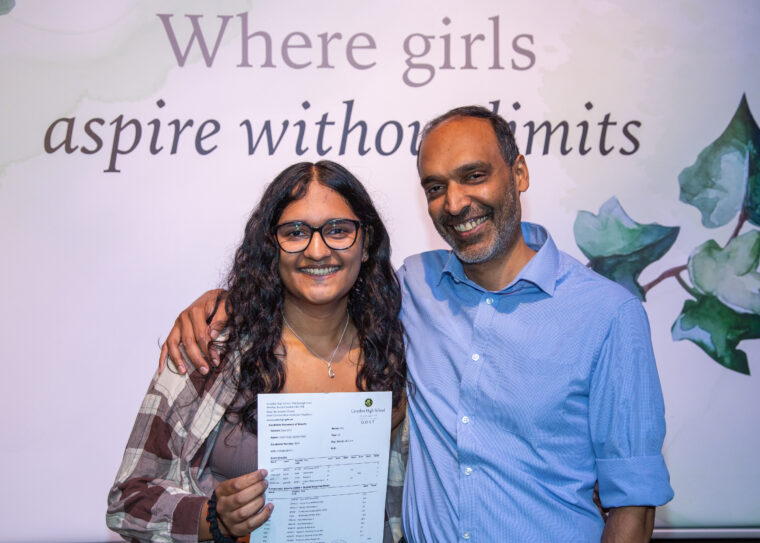 There are so many individual successes to celebrate and many stories to tell, but amongst this array of stars, we should begin with Anjali Patel, who not only aspired without limits but also (literally) achieved the highest possible outcomes. With A* grades in Computer Science, Maths (an incredible 97% in this subject!) and Physics and the top grade A in Further Maths at AS Level, not forgetting an A* EPQ, Anjali could simply not have done any better. 
Her passion and expertise in Computer Science secures her place at the University of Manchester, on their very highly regarded (and male-dominated) Computer Science course. Anjali has so many individual talents and we have no doubt she will excel in this environment, where she will continue to role model the very real opportunities for women in what is no longer a man's world. 
Indeed, stereotypical expectations in terms of subjects and achievements clearly do not stand up at Croydon High, where successes in STEM subjects are particularly marked.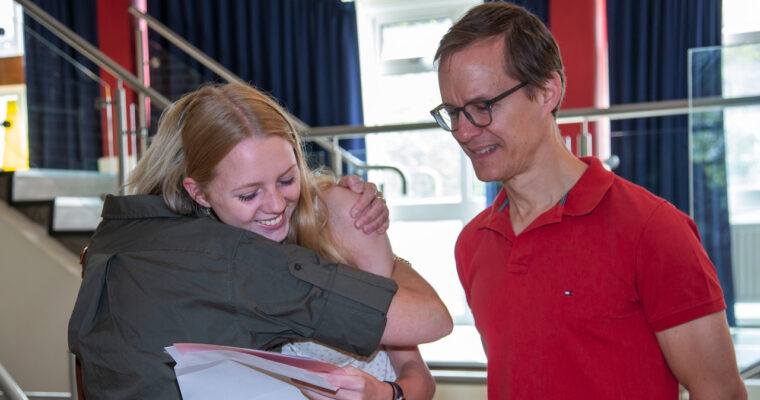 One third of all pupils taking Physics A Level achieved an A* grade and 60% of those taking Maths were awarded an A or A*.
Pupils who excelled in these subjects are going on to study Medicine, Biological Science and Biochemistry, with others opting for more specialist degree subjects such as Neuroscience.
Kirsty aims high – and lands among the stars!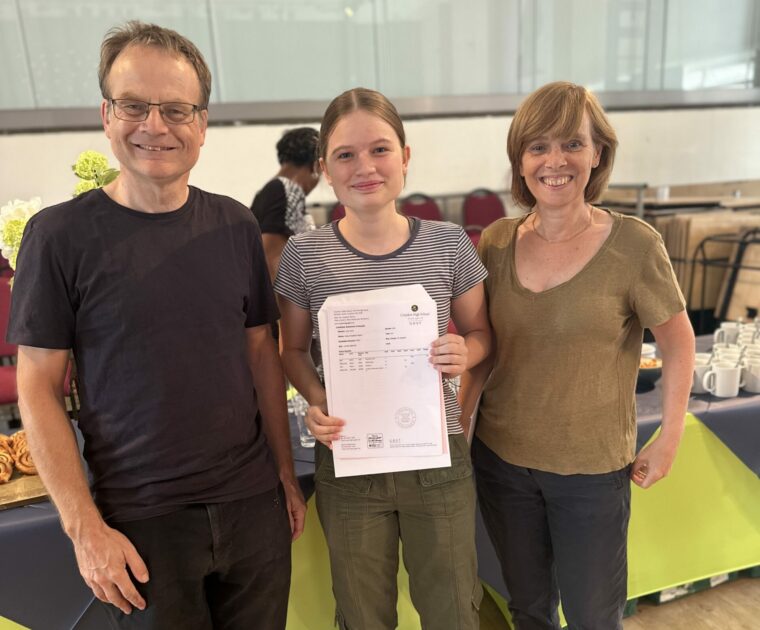 Talking of specialists, Kirsty Martin has had an almost unwavering passion for all things Aeronautical. Her outstanding achievement of A* grades in Maths and Physics, A in Chemistry and Further Maths AS Level and and A* EPQ has simply 'rocketed' her on her way to the sought after Aeronautics and Astronautics course at Southampton University. The sky is clearly NOT the limit for Kirsty!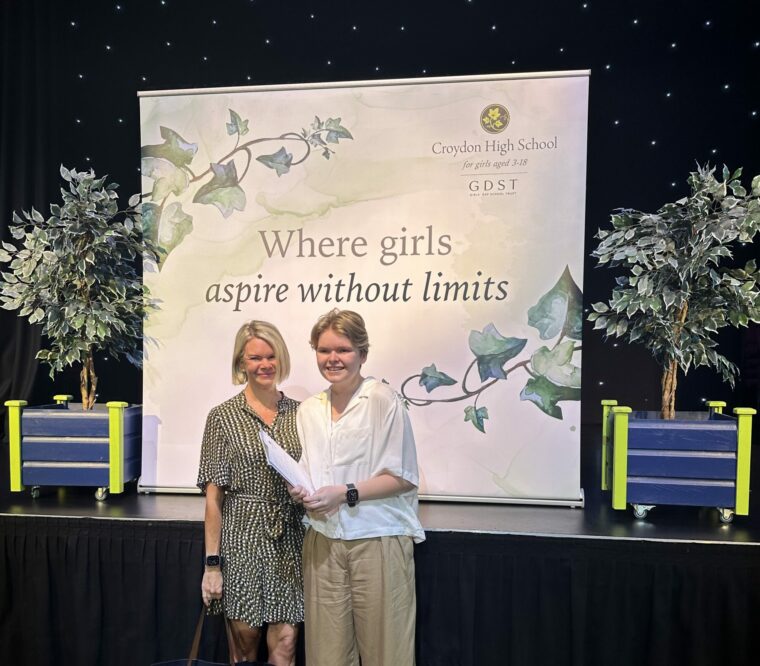 Max Cascarini has always demonstrated a level of natural and emotional intelligence that makes the dream to study Medicine a perfect choice. Once again, A* Grades in Biology, Chemistry and REP (Religion, Ethics and Philosophy) with an A Grade EPQ makes that dream a reality and Max takes up a place at King's College London where more success will no doubt follow.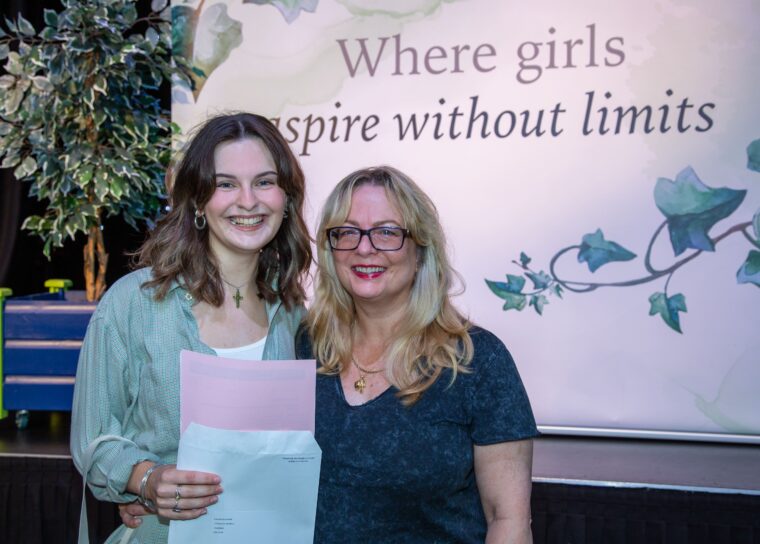 Another pupil who has demonstrated outstanding leadership qualities throughout her time at Croydon High, is Head Girl Eleanor Quenault. Eleanor has always led and inspired by example and her A Level grades will no doubt do the same. With A* Grades in Politics and Religion, Ethics and Philosophy (REP) and with an A in Art and a B in Latin, Eleanor's diversity of talent and interest is the perfect platform for her place at Bristol, reading Politics and International Relations.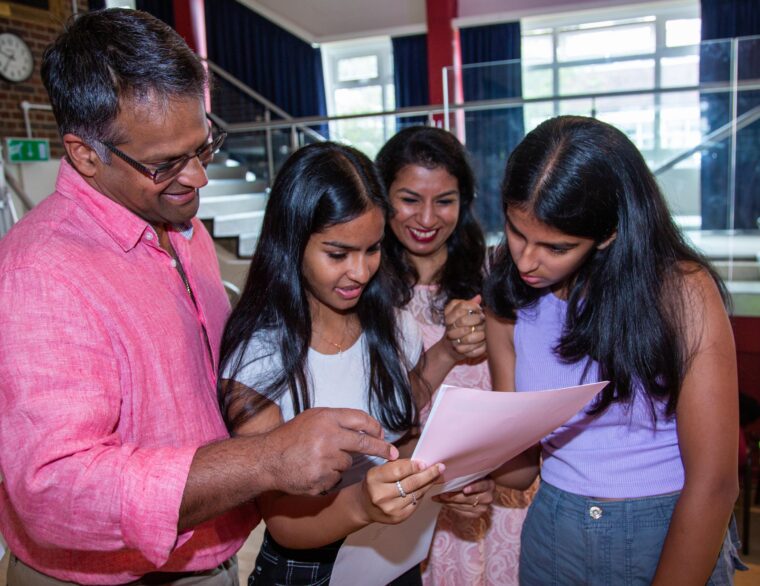 It is straight A grades for Head Girl, Yasmin Idiculla who studied Theatre Studies, History and REP with an EPQ and has secured her place to read History at Southampton.
Many congratulations also go to our former Deputy Head Girl Amelia, who is heading to the University of Bristol to read Modern Foreign Languages (Spanish and French).  Amelia achieved outstanding grades at A Level with an A* in both these languages as well as B grades in German and Politics. Amelia was an all-round superstar throughout her years at Croydon High having joined us in Nursery! She was the winner of the Alis Propriis Volat Award for contribution to Co-curricular Activities, the Harding Award for the highest achiever in two or more languages at Level, the Politics Subject Award and the Deputy Head Girl Award. Toutes nos félicitations Amelia – y buena suerte!
Deputy Head Girl, Varjitha Kunalan  (above)also has straight A grades in Biology, Chemistry, Religion, Ethics and Philosophy (REP)  and in her EPQ, which secures her place at Queen Mary's London to read Medicine.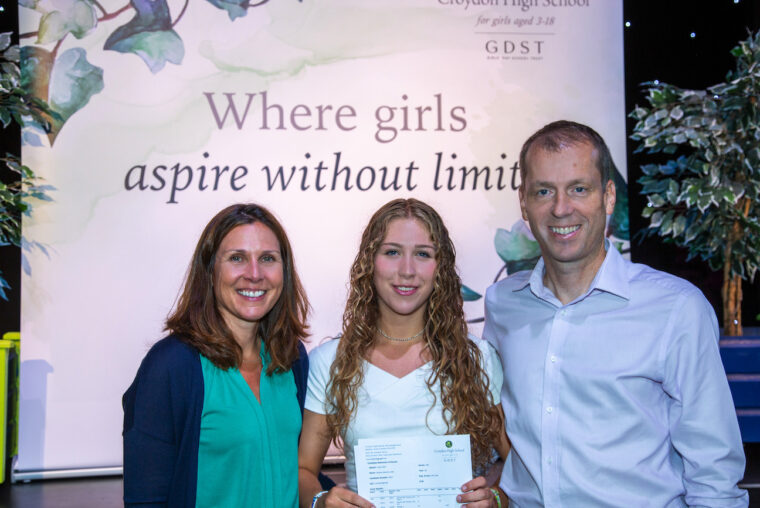 Sophia Lorke is also celebrating a clean sweep of A* grades in Biology and German and an A in Spanish which sends her to the beautiful city of Exeter for an exciting Flexible Combined Honours course, enabling her to study a combination of subjects across the fields of arts, languages and cultures in a range of different ways. In Sophia's case this is Spanish and Sports Science with a year abroad.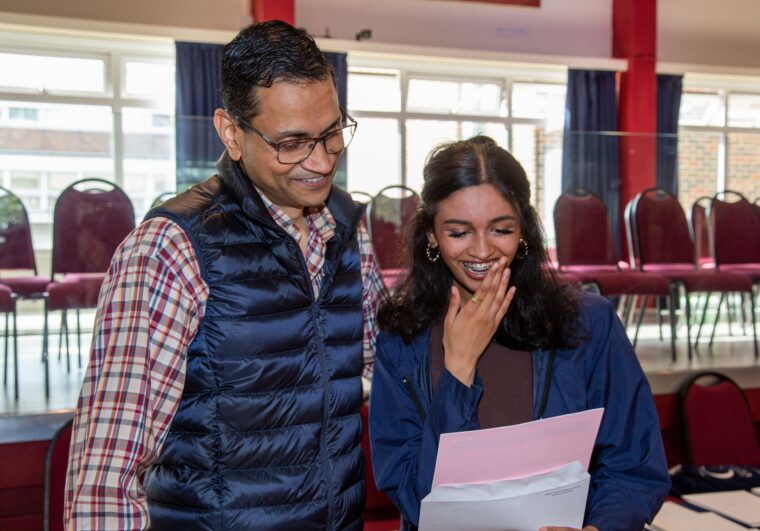 Strong performances in Maths (A*) Economics (A*) and an A in Chemistry with an A* EPQ has secured Shriya Korantak a place to read Economics at the highly regarded UCL – a fantastic achievement.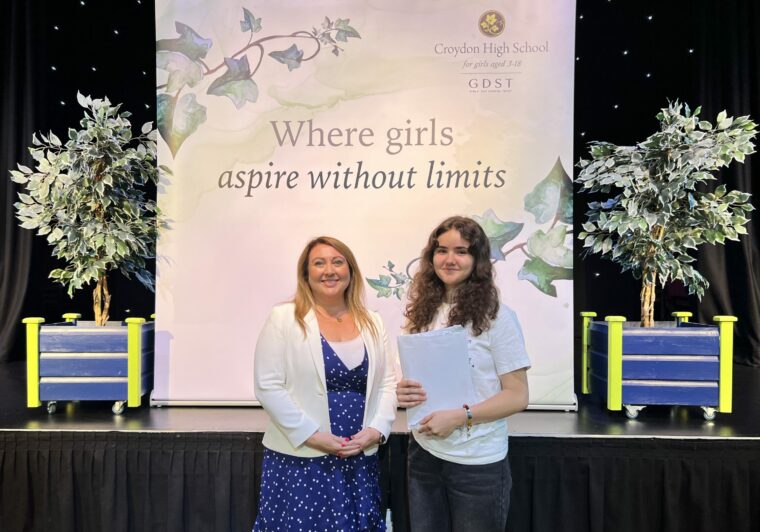 Nina Blay will be heading to Bath to read Economics too, armed with an A* in Psychology and A grades in Maths and Economics. An A* in Economics and A grades in Maths and Chemistry means Darshali Patel will also be reading Economics at Manchester.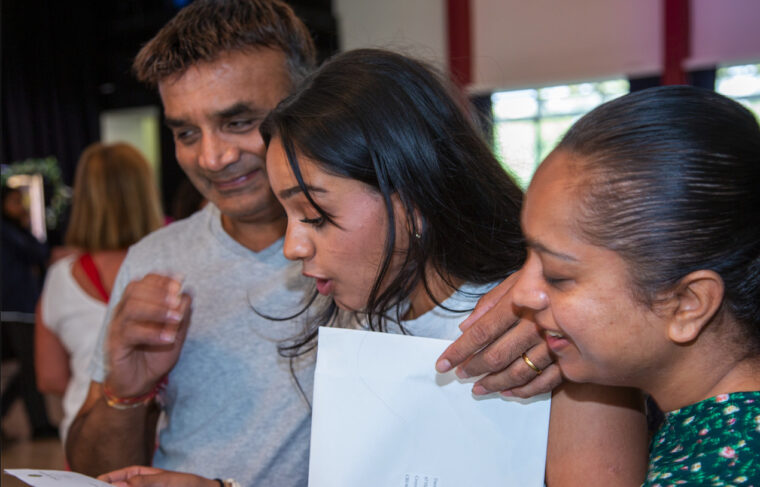 The world certainly needs great Economists at this time and we know that this is what they will all continue to be!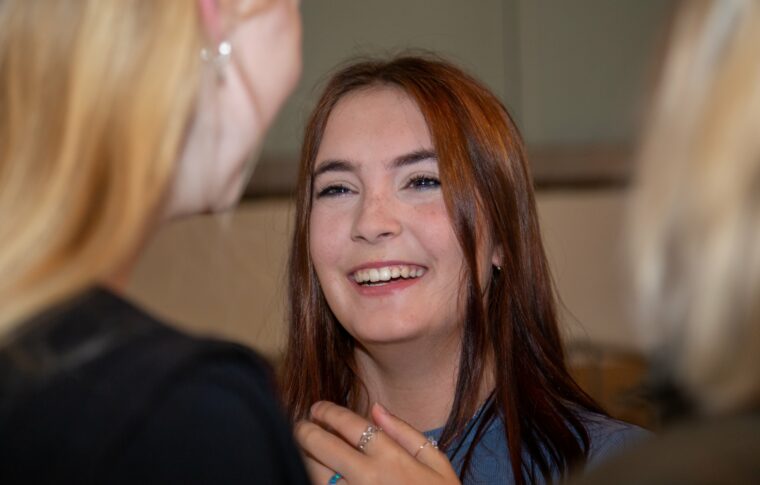 Lara Bower and Sofia D'Inverno are two pupils who have certainly embraced all the opportunities available to them at Croydon High and are going on to realise their own dreams. 
For Lara, with A* grades in Psychology and Geography and an A in Biology and in her EPQ, this takes the form of a place at Warwick to read Biological Sciences. For Sofia, A* grades in Geography, Business and her EPQ alongside an A in Psychology enables her to head west to Bristol, where she will be reading Psychology in Education. Congratulations to them both.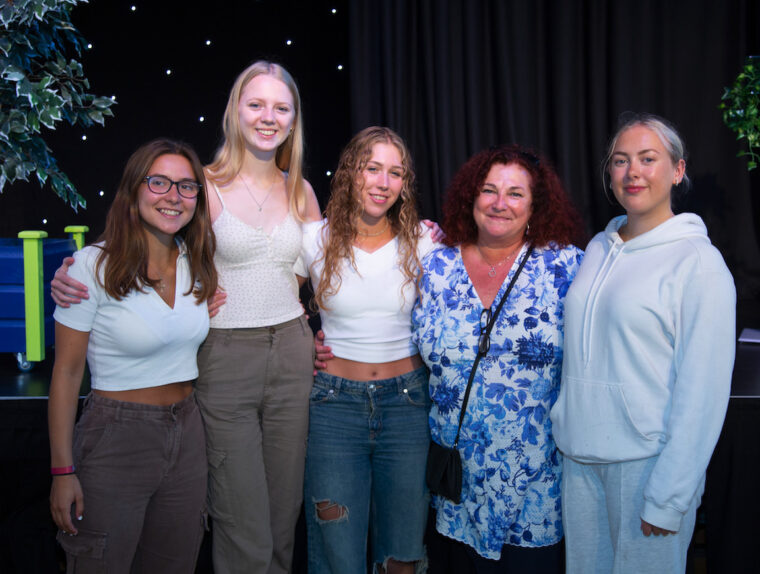 These are just some of the stories behind the statistics, but as Annabel Davies points out, every single pupil receiving results has undertaken their own journey, facing adversities individually and collectively with courage and, most importantly, championed one another and their school throughout.
Ms Davies went on to say, "I would also like to take this opportunity to recognise and applaud the dedication of the staff here at Croydon High. I have been so impressed by their unwavering commitment to inspire and support every girl, every day."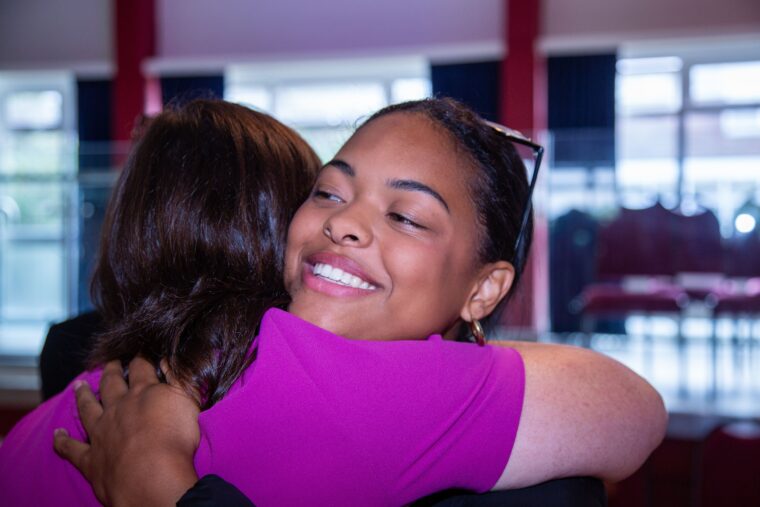 May her character and talents inspire others
"I am also enormously proud of this group of pupils, my first A Level cohort at Croydon High and I have no doubt that they will continue to live up to our school motto, and to always inspire others with their characters and talents. We will miss them but look forward to hearing all about their future achievements."