Undivided – Our Commitment to Diversity & Inclusion
We recognise that there is still so much to do, globally, nationally and locally to address deep seated and fundamental inequality.
We openly acknowledge that we are at the early stages of a journey which has been too much delayed. We also believe that the very best starting place is within ourselves, as individuals within a powerful commitment.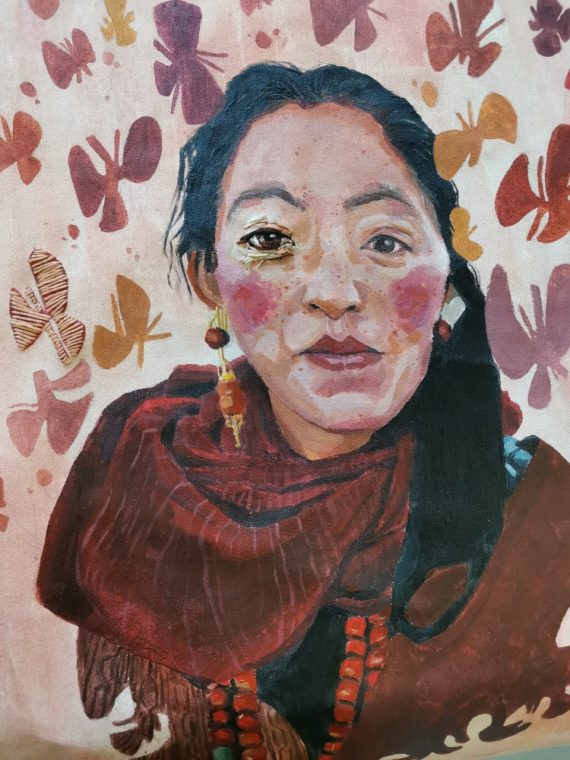 With this piece, I wanted to explore beauty and femininity in strangers.  I chose the image for its' composition, the focus on the girl and also the red colours, which represent North Asian cultures.  I wanted to highlight this stranger's beauty through her happiness. I chose to stitch the eye as it tells us a lot about a person, and it is small and intimate.
I was most influenced by Ines Longevial, Kehinde Wiley and Nneka Jones for this piece.  
Y11 Art Scholar Alice F
---
9 June is Dorinda Day
On 9 June 1833, Croydon High's founder and first Headmistress, Dorinda Neligan, a staunch suffragette, and a lifelong campaigner for equality, was born.
We are extremely proud of the school's association with Miss Neligan and that wholehearted belief in equality that saw her establish the first school for girls in the Croydon area.
We also believe this sense of justice and equality of opportunity has been passed down through the generations of Croydon High pupils, and we are fully committed to sustaining it for future generations.
Dorinda Day on the 9 June, is our opportunity to celebrate all that our school community does and will strive to do in the future, to address and respond to inequality of any kind.

The Importance of Ivy
You can read more about the history of the school here including one of our favourite stories about Miss Neligan and the ivy leaf.
Legend has it that as the first Croydon High pupils were making their way to the first GPDST (Girls Public Day School Trust as it was then known) Prizegiving, Miss Neligan pulled some ivy from the school walls and told every girl to wear it in their hair. She said it was a symbol of pride and self-worth; it identified them as Croydon High pupils and the first young women in Croydon to go to school.
Ivy continues to be an important part of our school's identity.  We value its traits of resilience and growth, and it represents our desire for each pupil to stand up for who they are and what they believe in without fear, but with courage and confidence.
Miss Neligan was fierce and strong; she held firm to her beliefs. She wanted the very best for each and every pupil and at Croydon High, this remains true almost 150 years on.
---
Every girl, every day.
Croydon High School believes in the power of transformative action inspired by meaningful debate. As a school, we are proud of our richly diverse community and we celebrate the talents, aspirations and individuality of every member of our student body in our school mantra, Every girl, every day.
Our mission is
"…to ensure our school is a place where the individual is celebrated and championed, within a community that offers a safe place to rehearse the challenges of the real world." 
and
"We wish to ensure every pupil has a deep sense of belonging to their school community."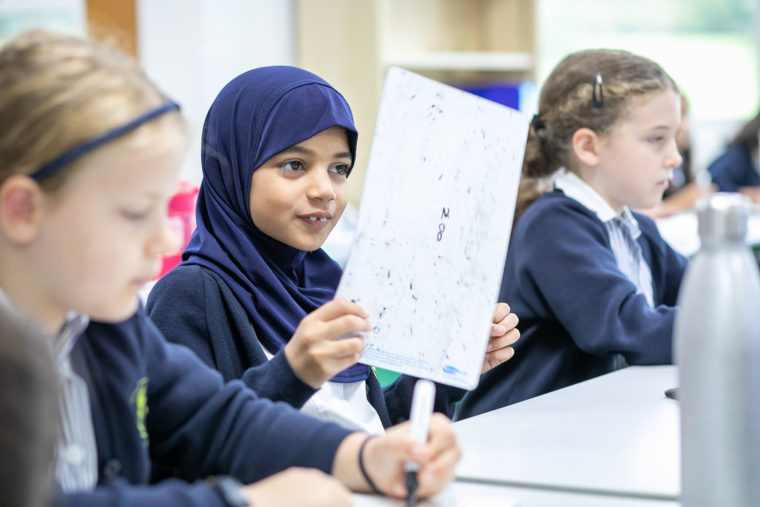 We are committed to ensuring that every member of that community is treated with fairness and with respect and we strive to ensure that these characteristics underpin all that we do.
Through staff training, PSHE lessons, co-curricular clubs and assemblies, we benefit from many different opportunities to inform ourselves and each other about the importance of embracing difference and respecting all cultures and lifestyles.
Our school policies reinforce our commitment to deal firmly with prejudice and discrimination and to ensure the school is a safe and happy environment for everybody to work and learn.
---
Stronger Together – the power of the GDST network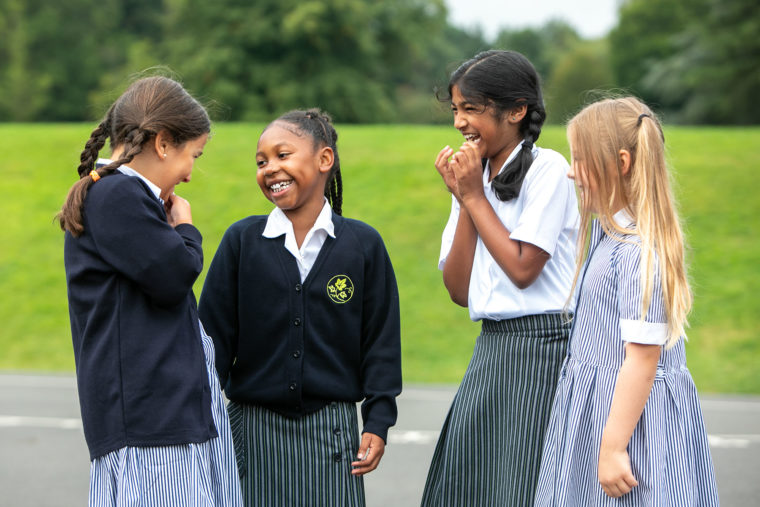 As part of the GDST family, led by CEO Cheryl Giovannoni, we are committed to the 'Undivided' programme which is striving to address diversity, inclusion and real change, more widely within the education sector. To find out more, please visit the GDST's website.
The principles underpinning the GDST's Undivided Charter for Action is something that we have all as individual schools and indeed, as individuals, acknowledge and seek to incorporate into our own lives and interactions.  We are proud to be part of such a forward thinking and reflective organisation.
As part of this movement, our community is invited to contribute to the Undivided Survey; an annual opportunity to share their feelings about how we approach 'difference' within our schools.
It is important to recognise that Undivided is not just about any one form of equality; it encompasses and celebrates difference in any form.  Race, gender, religion, belief, culture, ability; our goal as a community is to acknowledge, understand, accept and celebrate.
---
Dorinda Day 2020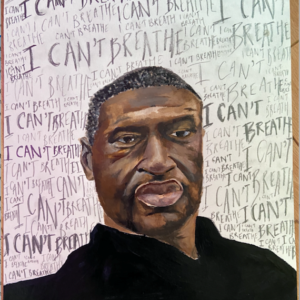 In June 2020, following the killing of George Floyd in America, people across the world held governments and organisations to account in relation to policies and attitudes that lead to inequalities for black and other minority ethnic groups. The message, which we wholeheartedly endorse, is clear. Racism cannot be tolerated.
Art Scholar Ananya R
As part of our response to this global call to action, on 9 June 2020 Croydon High School published a response to a letter signed by a number of pupils, alumnae and parents calling for action and a review of the curriculum at Croydon High School.
Read Pupils' Letter     SLT Response Letter
Our response to the letter, sent to signatories, pupils and parents on Tuesday 9 June 2020 contains a commitment from the school's leadership in the form of a number of very clear pledges, to instigate change, to encourage engagement and most importantly to ensure that we can be held accountable for our progress.
---
Dorinda Day 2022 – Our Ivy Pledges
To mark Dorinda Day 2022, we reflected upon the journey we have made as a school community and encouraging individuals within the community to continue on this path.
Each member of the school is being asked to consider what their own Ivy Pledge might be; something that will make a difference to their understanding of what it means to be 'undivided at Croydon High' and help us on our journey to ensure every pupil has a deep sense of belonging to their school community.
Working within their tutor groups, pupils will be encouraged and guided toward appropriate resources to read, listen, watch and discuss.
From this, they will identify their own Ivy Pledge which will be displayed as part of our whole school commitment to Dorinda Neligan's legacy.
---
Our Journey Continues
Over the past two years, we have navigated unchartered waters as both a school and a global community. The world has witnessed a global pandemic, economic uncertainty, political change and instability, war, acts of terror, violence and discrimination.
The impact of all this on a school and particularly on the young people in our care, cannot be underestimated and now, more than ever, we must renew our commitment to providing an environment where our differences do not divide us, but instead, enrich us.
Over the past two years, we have worked hard to gain a deeper understanding of our differences and to make changes that reflect our desire to continue to grow.
In terms of the pledges made in 2020, we can report real progress whilst still acknowledging there is so much more we can do.
Some of the key areas we have addressed can be found below:
Initially, teachers received training on curriculum planning and making change on this theme. The focus fell on the question Do your students see themselves in your subject? To what extent? If not, how should you address / improve that?

Admittedly, this was a journey we were already on but huge progress has been made since 2020 and the work is continuing.

As well as on-going and in-depth staff training, specific examples of change in Senior School include:-

English: Our new drama set text for IGCSE Literature is 'Crumbs from the Table of Joy,' by a contemporary Black female American playwright, set in 1950s America. It centres around themes of race, equality, gender and is predominantly written in Southern American dialect.

French. Instead of studying Tartuffe, pupils are now studying Kiffe Kiffe Demain which is the story of the integration of a migrant family into French society, the problems they encountered at different levels/age/generation – including racism, stereotype and how to overcome difficulties.

History. The A level and GCSE exam content remain rather restricted, and we make the most suitable choices we can with the curriculum; the level of coverage of Undivided themes in Years 7-9 means pupils are already conversant with the topics and the content.

REP. This is a forum of great debate and exploration of difference and how it can be celebrated and supported; many pupils have acknowledged this as a great space for exploration and debate.

Drama. Changes have been made to set texts to incorporate a wider coverage of Undivided themes and issues, particularly on the theme of Forbidden Love, Racism and Political Terrorism.

Art. All programmes of study include more artists and designers that cover a variety of cultural backgrounds, male and female and are LGBTQ+.  This has been a real focus in the Art and 3D Departments this year.

Maths: Year 9 have a themed unit of work on calculations which leads to a showing of Hidden Figures, charting the work of black Afro-American women working at NASA. Coming next year, more on the civilisations where the maths being studied originated from.

We revised our co-curricular offer and instigated some changes.

As part of the GSA (Girls School Association) Education Committee, we have made a point of ensuring our input and our voice feeds into the overall agenda and debate on this topic.

We have seen that some subjects are starting to include a wider range of texts (Drama and Theatre Studies in particular.)

We have joined the Schools Inclusion Alliance which supports schools to develop their policies, practices and progress on this theme.

Over the past year, the school has successfully introduced 'Drop-down days' for PSHE; extended periods of time enabling pupils to learn about and discuss challenging issues in a safe and informed space.

As of September 2022, there will be a dedicated head of PSHE teacher to maintain oversight of this important part of our curriculum programme.

Throughout the 2020-2021 academic year, Mr Loveday delivered Ubuntu club to 30 of our students from a variety of year groups.

Ubuntu is an African philosophy which refers to the idea that "I am because we are". It contrasts with the tendency of Western culture to promote "individualism" . This club has no fixed topic or type of activity, but explores any and all ideas from Sub-Saharan Africa and other forgotten histories. Food, music, culture, philosophy, history, current affairs etc were all discussed.

Amnesty International has been a popular and successful activity at Croydon High for a number of years – certainly for the last 10 years under the inspirational guidance of Mrs Abrams and now with Ms Tooke and Mr Loveday. Successful campaigns this year have highlighted the plight that many girls and women across the globe face in accessing education as well as the annual "write for rights" campaign. It was also overwhelming to see Nazanin Zaghari-Radcliffe released this year, following her 7-year imprisonment in Iran. The Croydon High Amnesty group sent letters of support for Nazanin's release throughout this time.

The Infinity Group has been set up by our Head of Academic Support, Mrs Sharples, to be a place where students can explore different neurodiverse conditions.  The objective is to create a website encapsulating the different neurodiversities that are reflected in our school community which will offer information and creative responses to conditions.  Those who have chosen to attend all have neurodiverse conditions and are busy with preparing their pages and also creative responses that we can then upload.  Conditions such as Dyslexia, Dyspraxia, Dyscalculia, Autism, ADHD, Tourette Syndrome, and Auditory Processing Disorder have separate tabs within the site.  The students are keen that neurodiversity is seen as a positive aspect of their lives and although giving them challenges is part of who they are and offers many strengths as well.

Learn To Sign. Set up by outgoing Head Girl, Alisha, the sign language group has gone from strength to strength in the last two years, with sessions continuing virtually throughout lockdown! As well as learning to sign the alphabet, songs and poetry, more than 35 students in the last two years have grasped the basics of both American and British sign language. Although Alisha is now on study leave and preparing to head off to university, there is enough expertise in the group for Learn To Sign to continue teaching future pupils at Croydon High.

The PRIDE group continues to meet regularly for discussion and support over all issues relating to LGBTQ+. Mr Flower has delivered an annual whole school assembly to acknowledge Pride Month since 2019, as well as running awareness initiatives such as cake sales, rainbow accessory days and the rainbow benches in the Drama Courtyard.

We have carried out extensive staff training on this – online, in person, and with pupil voice feedback.

Diversity has increased very positively within our staff body and our external speakers.

 The establishment of an AGB (Alumnae Governing Board) made up of a group of past Head Girls, who are themselves from diverse cultural and ethnic background, has added another layer of consultation and opportunity for discussion for the Senior Leadership Team.

This group has acted as a very valuable sounding board for new initiatives and strategies.

Working party of staff to contribute to planning and implementing new initiatives and evaluation of need for support.

Listening projects with pupils: Active engagement with pupils across year groups to enable them to tell us what is important to them.

Undivided Prefects: Prefects appointed specifically to encourage and support projects related to diversity

Discussion and Action Groups: Student discussion groups led by the Senior Prefect Team (and supported by members of the Senior Leadership Team) cover a number of topics, including the Undivided theme and the attempt to nudge discussion into positive action and outcomes

Smaller scale projects have sought to inform and improve the discussion amongst the pupil body. Examples include the RAD project launched in Years 8 and 9. RAD stands for Respect Acceptance Diversity.

Pupils learn about these areas and educate each other on them through assemblies. We have enjoyed a Diversity talent show led by Year 9, showcasing music dance and fashion from around the world and assemblies on accepting change.  Year 8 pupils have led assemblies on 'diversity in school' – giving examples of the impact of certain language and discussing the concept of respect.t We have celebrated Chinese New Year and considered Diversity in Disney films'.  Assemblies focusing on LGBTQ+ and Neurodiversity are also planned.

We held our second Iftar event this year, inviting both Muslims and non-Muslims to share in this special event and we also held our first Culture Day in May 2022 to give pupils a platform to share the elements of their own cultures that they treasure the most.