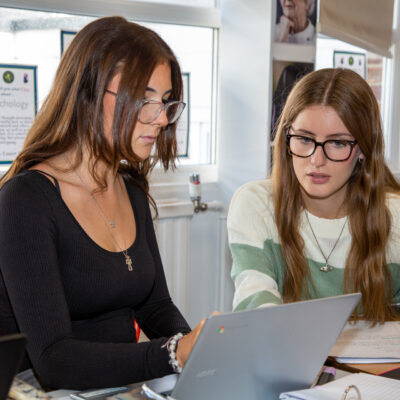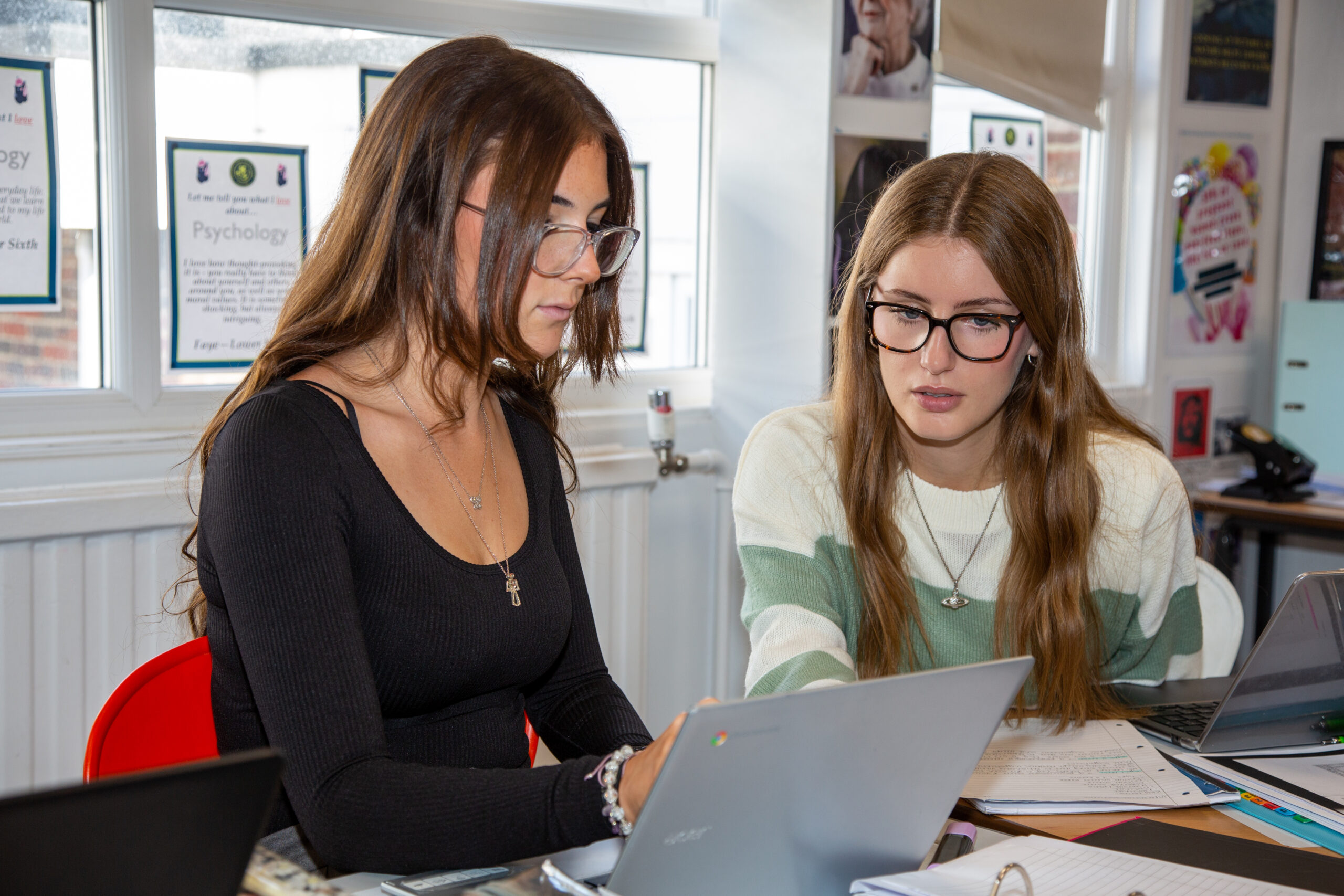 The Sixth Form at Croydon High is a whole new world of opportunity.
Whether you are joining from Year 11 at Croydon High or from Year 11 in another school, you will receive the same warm welcome and the same chance to become who you want to be – in Sixth Form and beyond.
At Croydon High, we call it writing your own story…
Sixth Form Applications for September 2024
Applications closed on 30 October 2023. After this date please contact: Sixth Form Admissions for information about the availability of places.
What does our Sixth Form offer?
You may find it useful to look through the information below, including our Course Guide and the Scholarship and Awards booklet, which gives information about the range of scholarships and subject awards available to high achievers in a wide range of subjects.
There is also some detailed information about the amazing support available in our Progressions and Futures and Oxbridge Pathways Programme and staff who lead these initiatives will be able to explain more during the Question Time event.
There are, of course, many reasons why ambitious students choose to join the Sixth Form at Croydon High. More often than not, it is a combination of the broad range of subjects we offer, our record of academic achievement and strong, and genuinely, caring pastoral emphasis. Students are also invariably drawn to Croydon High by the fact that we do not view exam results as the only yardstick of success.
Indeed, we seek to prepare students who are 'real-world ready' for whatever it is they want to do after A levels. Capitalising on our small-group approach, teachers and students are united in a common sense of purpose, which looks and feels different from earlier educational experiences. Crucially, this approach means that students find themselves in a confidence-building and highly motivating environment that encourages them to be genuinely bold and unique. As a result, our students make strong friendships with each other that endure long after they have left us.
It is often said that it is not what you know, it is who you know – but in reality, it's probably both.
Another enormous benefit of Sixth Form life at Croydon High is The Ivy Link; a vibrant network of Croydon High alumnae who are ready and willing to offer practical advice and support, whether it is on university choices, work experience or any aspect of life after Croydon High!  We are always amazed by the level of response we receive from our 'old girls' whenever we put out a request for information or advice.
Belonging to the wider GDST network is another unique and increasingly powerful advantage available to Croydon High Sixth Formers, during their time at school and crucially, when they leave.
The wider GDST family of schools provides unique opportunities for career support and guidance, GDST-wide events and networking. There are advisers for every type of career or higher education pathway and a 70,000 strong network of GDST alumnae, all available to help at the click of a button on the Rungway App and on GDST Life, our new social and professional network.
At a GDST Sixth Form, you are one of a kind, part of the family.
Our alumnae are Croydon High and GDST girls for life.
GDST alumnae span the world and every professional sector. With over 70,000 members, the network could almost fill Wembley stadium.
Being a GDST alumna offers endless opportunities. From face-to-face and app-based mentoring programmes, to business networking, self-development and social events, the network offers a professional community unlike any other.
An example of the spirit of support available can be clearly seen in the video below, featuring young  GDST alumnae talking about their experience of Sixth Form.
For example, the Rungway app connects Sixth Form girls with alumnae who are already at university or in the working world. With over 1,800 active users, it gives a GDST girl access to invaluable advice in seconds. Whether it is questions about university accommodation, help with applications, research into job opportunities or general career and life questions, the answers are there at the touch of a button.
GDST Life, our new social and professional network is another ground breaking mentoring initiative which actively encourages like minded GDST girls across the network to connect and share their advice and experiences.
More information about the many benefits of the GDST Alumnae and Sixth Form community can be found on the GDST website.
If you have any immediate questions about any aspect of the admissions process or Sixth Form life, call 020 8260 7572 or email Mrs Macmillan at Sixth Form Admissions who will be delighted to help.
We look forward to helping you write your own story…
---
How to apply online
If you are ready to apply to our Sixth Form, please complete the on-line application form:
Please be aware that we will require a non-refundable registration fee of £100 to be paid by credit or debit card on submission of this form. If you are unable to make the payment in this way, please contact us before completing the form.
If you have any questions, please call us on +44 (0)20 8260 7572 or email sixthform@cry.gdst.net